The trans-Tasman bubble is officially here, which means Kiwi travellers are free to visit Australia without having to worry about quarantining when they return home.
With Australia's borders remaining closed for now to all other international tourists, typically busy areas like Uluru, the Great Barrier Reef and Daintree National Park are far less crowded than usual - leaving Aussie and Kiwi visitors to have these sites all to themselves.
And since right now is also the best time of year to visit many of these places, you may want to take advantage and book your own trans-Tasman trip before the bubble bursts.
Here are five amazing reasons to visit Australia right now:
1. To discover wide-open spaces
If a year at home has you craving big skies and sweeping landscapes, then Australia's Red Centre is calling. Gaze at the iconic and sacred monolith of Uluru, stand at the edge of the massive Kings Canyon, or stargaze under a pure black sky that's free of light pollution.
May through September is the best time to visit Uluru, since temperatures are cooler and the colours are most vibrant. And while this time of year is also usually the busiest for tourists, with the current restrictions on international travel, you'll have all that open land to yourself.
2. To experience the best time of year on the Larapinta Trail
The spectacular Larapinta Trail is one of Australia's greatest walks, weaving through the Western MacDonnell Ranges in the heart of the Outback. It's also like walking back through time, as the trail starts at the 1870s Alice Springs Telegraph Station and follows the old telegraph line into the land of the Arrernte people, whose history goes back 40,000 years.
While summer brings extreme heat, thunderstorms and the risk of flash floods to the Larapinta, the months of April through October are perfection, thanks to lush greenery and bird-watching in the autumn, cool temps and sunny days in the winter, and newly sprouted wildflowers in the spring.
3. To swim with whale sharkes in the Ningaloo Reef
Everyone may know the Great Barrier Reef, the largest coral reef system in the world, but Australia's coastline boasts other, lesser-known reefs that are just as spectacular. And right now is the best time to visit one of them in particular.
Every year from April to July, massive whale sharks can be found congregating in Western Australia's Ningaloo Reef. In fact, it's the most reliable gathering of whale sharks anywhere in the world, with the sharks coming in close enough to land that you can swim with them. If your dream is to float among these gentle giants (keeping a safe and responsible distance, of course!), then now's the time to strap on a snorkel. In addition to whale sharks, you can also expect to see turtles, tropical fish and manta rays.
4. To warm up in the Whitsundays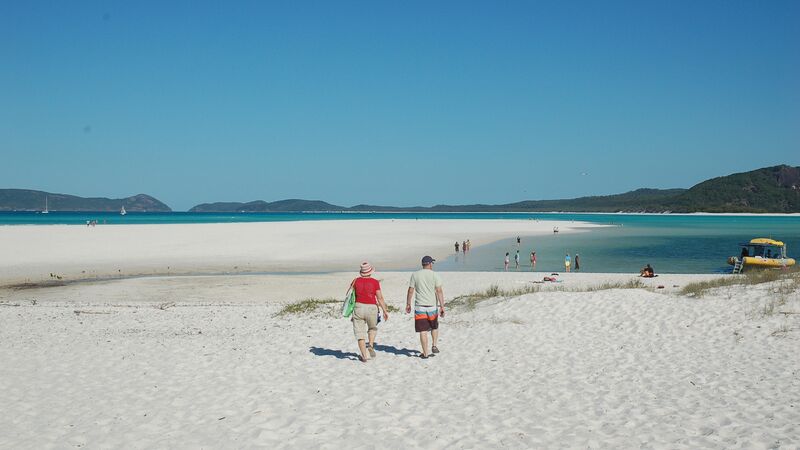 Want to swap winter chill for palm-fringed beaches, turquoise waters and sunshine? The Whitsunday Islands are delightfully balmy year-round (average temps are in the mid-20s Celsius) and the winter months typically boast the most sunny days. Another bonus to winter travel? Summer is stinger season, when box jellyfish are more common in Queensland's waters.
And, as if you needed yet another reason to plan a winter vacation to the Whitsundays, it's also humpback whale season, when they migrate from Antarctica to the warmer waters of Australia's east coast.
5. To taste the best of Tasmania's cuisine
It used to be that tourists to Tasmania came seeking nature and history. But these days, it's just as likely to attract foodies as it is outdoor adventurers. Think locally sourced honey, truffles, oysters, lobster, cheese, apples, beer, wine, lamb, gooseberries, raspberries, wasabi, garlic… and on and on and on.
Farm-to-table and small-batch are more than just culinary buzzwords here - they're the way of Tassie island life. The once sleepy town of Hobart has become a culinary capital and even the city's long-running Salamanca Market (which had to temporarily close during the first half of 2020 but has since re-opened) has seen a shift over the years, now boasting more multicultural offerings like Turkish kebabs and Korean bibimbap balls - all locally produced, of course.
While it may still be awhile before you can travel further abroad without having to quarantine, at least now there's a bit more to explore beyond your New Zealand border. So, if you've long dreamed of a crowd-free adventure through Australia's rugged Outback terrain or strolling along Queensland's empty sun-soaked beaches, there's no better time to book.